We celebrated Macmillan's 175th anniversary at the Beijing International Book Fair last month, with our partners, friends and colleagues. More than 100 guests were there with us for the celebration, one of the highlights on the opening day of the book fair.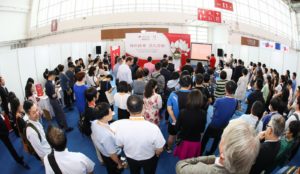 Arnout Jacobs, managing director of Springer Nature Greater China, opened the reception in bilingual, extending our gratitude to our partners in China.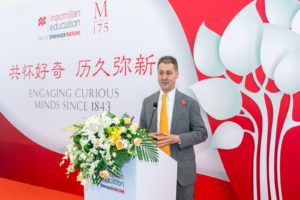 Emma Bourne, managing director of curriculum, and Asia, Middle East and North Africa of Macmillan Education, especially came to China for the ceremony, recalling a long history between Macmillan and China as well as reiterating our long-term commitment to Chinese partners and customers.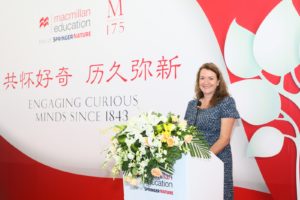 Wu Shulin (second right), executive deputy secretary-general of China's Publishing Association and former vice minister of China's State Administration of Press, Publication, Radio, Film and TV, and Xu Jianzhong (left), editor-in-chief of Foreign Language Teaching and Research Press also spoke at the ceremony, sharing their stories with Macmillan.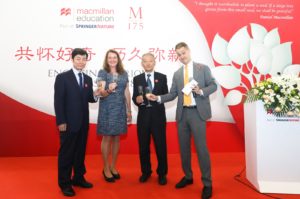 96-year-old Professor Chen Lin, editor-in-chief of New Standard English, first published by Macmillan and Foreign Language Teaching and Research Press back in 2002, sent a video message to thank Macmillan, his "old pal." New Standard English is the first English course book that with a consistent pedagogy approach developed for Chinese students from kindergarten to university. It has been sold more than 800 million copies in more than 20 provinces in the country.
English starts at 05:04
As Emma mentioned in her speech, "we pride ourselves on being an exceptionally global publisher with a truly local presence." 175 years pass by, today in China Macmillan has offices in Shanghai, Beijing, Hong Kong and Taipei.
In 1843, the Macmillan brothers, Alexander and Daniel, founded Macmillan Publishers, using the family name. As early as 1907, Macmillan appointed its first sales agent in China, Fred G. Whittick, who was most likely an English teacher working in China at that time. China's Commercial Press started to sell Macmillan books from 1917. In 1979, former British Prime Minister and Chairman of Macmillan Harold Macmillan visited China and met with Deng Xiaoping, then 1st vice premier.